This tutorial guides you through creating a web application that allows users to buy and sell tokens of different types. You will use the Taqueria platform to manage smart contracts and a distributed web application (dApp) to handle the backend and frontend of the project.
You will learn:
What kinds of tokens Tezos supports
What token standards are
How to create contracts that are based on existing templates for token standards
How to store token metadata in distributed storage with IPFS
How to handle token transfers and other operations
How to list tokens for sale and accept payments from buyers
Prerequisites​
What are FA2 tokens?​
If you've gone through the tutorials under Create an NFT you know that NFTs are blockchain tokens that represent unique assets, usually created under the FA2 token standard. However, the Tezos FA2 token standard allows you to create multiple types of tokens, and even more than one kind of token within the same smart contract. When you create tokens, it's important to follow one of the token standards because then tools like wallets and block explorers can automatically work with those tokens. For more information about Tezos token standards, see Token standards.
In this tutorial, you use the LIGO template for FA2 tokens to create these types of tokens:
| Token template | Number of token types | Number of tokens of each type |
| --- | --- | --- |
| NFT | Any number | 1 |
| Single-asset | 1 | Any number |
| Multi-asset | Any number | Any number |
When you create your own applications, you can choose the token type that is appropriate for your use case.
What is IPFS?​
In most cases, developers don't store token metadata such as image files directly on Tezos. Instead, they configure decentralized storage for the NFT data and put only the link to that data on Tezos itself.
The InterPlanetary File System (IPFS) is a protocol and peer-to-peer network for storing and sharing data in a distributed file system. IPFS uses content-addressable storage to uniquely identify each file in a global namespace connecting all computing devices. In this tutorial, you use Pinata's free developer plan to store your NFT metadata on IPFS and reference it on Tezos, demonstrating a scalable and cost-effective solution for handling NFT data.
Tutorial application​
This tutorial was originally created by Marigold, which hosts versions of the tutorial application after each part of the tutorial:
The completed application at the end of the tutorial is a marketplace where administrator users can list wine bottles for sale by entering information about them and uploading a photo. The application creates tokens based on this information and the site allows other users to buy the tokens that represent wine bottles.
You can see a running version of this application here: https://demo.winefactory.marigold.dev.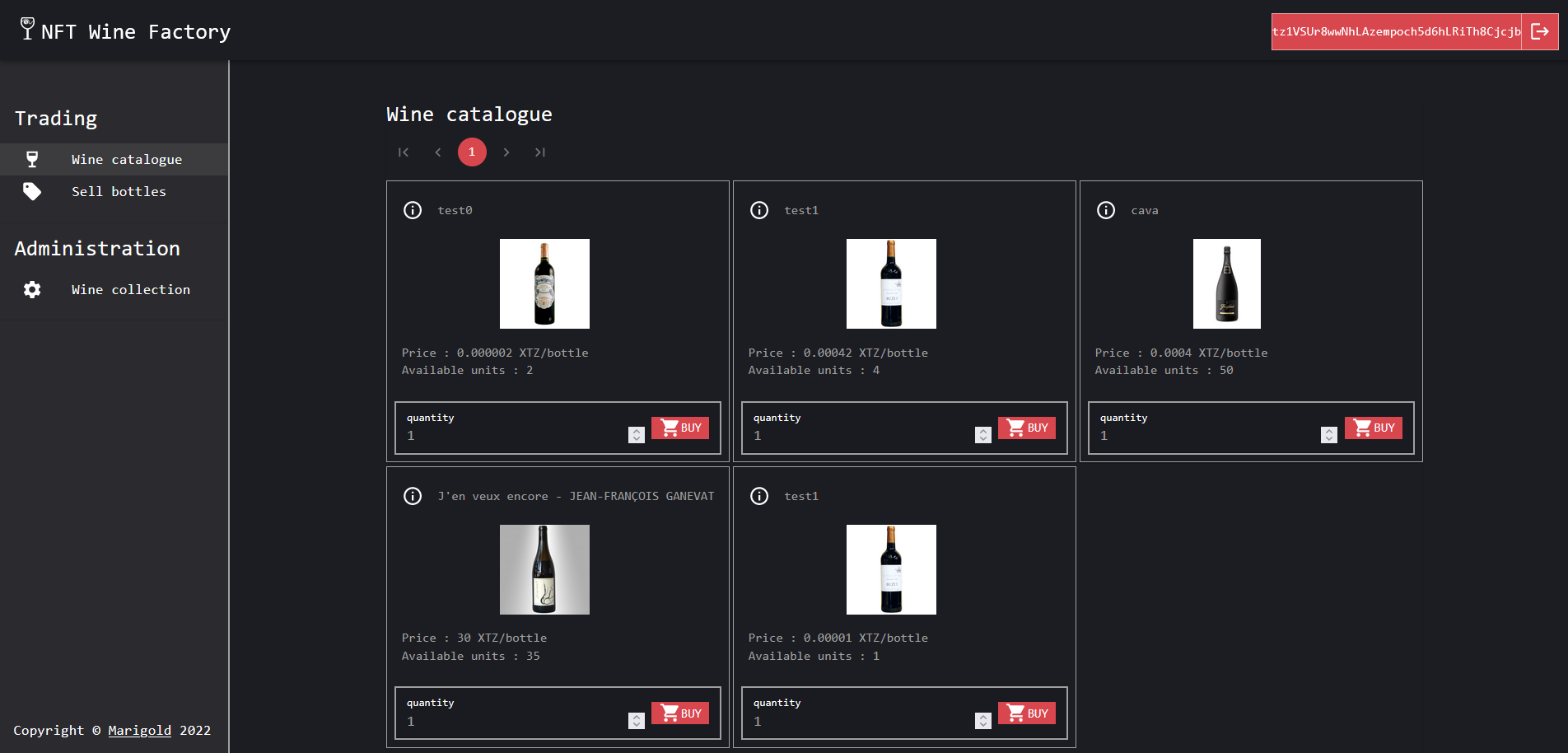 This application is made up of a smart contract that handles the tokens and a frontend web application that handles the user interface and sends transactions to the backend. As you work through the tutorial, you will use different smart contracts and upgrade the web application to work with them.
When you're ready, go to Part 1: Minting tokens to begin.